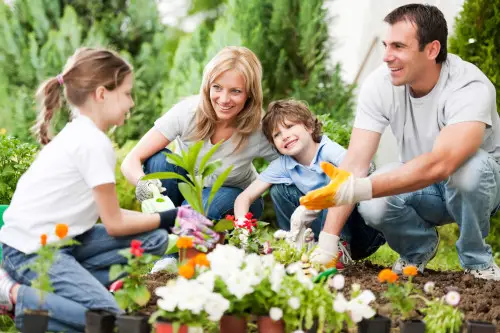 Gardening is a great hands-on spring activity that little ones tends to enjoy for a number of reasons. Gardening for kids can be a fun activity; kids are obsessed with soil, mud and all manner of growing things and they don't care about getting their hands dirty. They just want to keep digging!
Not only does gardening give parents an excellent opportunity to spend some truly quality time with their little ones but the activity itself actually gives kids a chance to develop a sense of responsibility and creativity as they care for their seedlings, and help their plants grow to maturity.
Moreover, kids can learn how veggies grow and their importance as a source of vitamins and minerals, which may prompt them to grow their very own nutrition-rich vegetables (which kids usually find intimidating or "yucky").

How to Start a Garden Together
Gardening can be a bit time consuming. Tilling soil, planting seeds and then looking after the plants as they grow, in order to maintain their health, requires regular effort and some know-how (which you may now be lacking).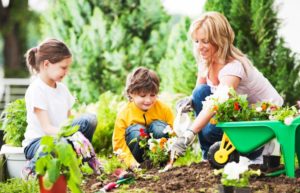 However, starting a garden, even just a small patch in your existing space, can be such a rewarding activity that your child, and you, will remember and treasure the experience for the rest of your life.
To get started, do a little research with your kids about the type of plants you would both like being sure to pick either local plants or ones that suit your environment and climate; this is as easy as doing a few "google searches" online.
Once you have purchased your chosen seeds or seedlings, another activity you can do together, show your kids how to dig a hole in the soil.
This will probably be one of the most fun bits for the kids. Digging a hole will instantly excite them as they naturally love mud and dirt and are always ready to explore the unknown.
Once they understand how to break up the soil properly for seeding, let them choose which plants they want to grow together i.e. let them chose the spot for growing each plant – unless the specific plants would compete aggressively for resources and cause growth and/or plant health issues (most plants can grow together perfectly fine).
Continue with the process of planting or seeding and help them learn how to pack the soil compactly without being too compact or too lose and allow them to water the seeds/seedlings.
In the process of starting the garden, especially from seed, will help your kids to understand the importance of patience; seeing seeds sprout into plants can be a magical and memorable part of their childhood as they will feel responsible for creating life. The fact that they have achieved this with you will make the entire activity a life-event.

Plan a Layout
Be sure that your child can easily get to the garden even in your absence. It's better to grow plants within the confines of your boundary wall or fence than planting across the yard. For further convenience, plant near your kitchen window or close to your kitchen's back door, perhaps in a separate boxed off area, so that you can instantly grab fresh green vegetables for your meal and can tend their plants whenever they wish.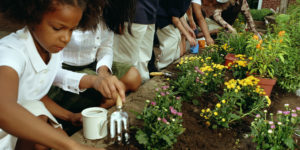 Follow these simple steps when you start gardening with your kid:
Plan before Planting – Keep your climate zone in mind as well as the season and also consider the right plants for your kind of soil. It is easy to check the soil's php value with this handy kit from Amazon and then plan your garden around plants that grow well in such soil.
This will also help you choose the right garden site as you'll know what plants to grow in your region.
Garden Location – Try to choose a garden site close to water a access point where there's plenty of sunshine during the day.
The Layout – Consider square foot gardening with several pathways so that your young one(s) can move around without trampling the plants.

The First Plant – Let your child choose what kind of flowers or vegetables they'd like to plant but help them with their choices. This will ensure you not only get the correct plants but will also help you make the process a truly bonding experience.

Gardening with Kids
For parents, it's important to look at the garden from their child's perspective.
Usually, children are unaware of the vegetables growing underground like tubers and they might ruin them without you knowing it. They may also decide to explore with garden tools that pose a safety risk such as spades, shears, hoes and other sharp cultivators.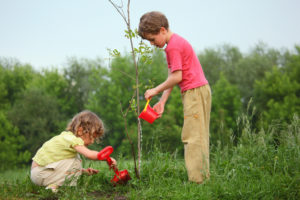 Children normally don't give it a second thought before reaching for these tools because they saw mommy or daddy using them.
Therefore, it's important to keep these tools away from the reach of children.
As an alternative, buy them their own child-sized tools like a bucket and gloves. Children love to have their own colourful and personalized garden tools. It is relatively easy to get children's garden tools that are workable copies of adult garden tools but that are made of plastic such as these kid's garden collections on Amazon.
Some plants are physically similar to flowers but they're poisonous to the touch. Pesticides can also put your child's safety at risk. Make sure you're looking for all such red flags before letting your child explore the garden. Of course to be on teh safe side you can use child & animal friendly pesticides available from Amazon (something we recommend everyone does to avoid harming bees and other living organisms essential to the local and global ecosystem).
In case you find yourself having to use pesticides, do not forget to rinse the vegetables thoroughly before using them. As an alternative, you can also introduce natural predators to your garden in order to keep it pesticide-free.

Gardening for Children Can Help With Nutrition
When you put a plate full of fresh leafy vegetables in front of your kid, how does he/she react? Generally, your preschooler will be less than pleased or tell you that he/she is no longer hungry. Simply put, most kids are picky eaters.
However, there's a great way to get your children to eat nutritious, organic vegetables through some simple fun activities. That miraculous solution is of course gardening! While gardening for your children or with your children, you can ask them to pick a vegetable they would like to see grow.
For instance great veggies to help develop a love for vegetables in your child and that are easy to grow include: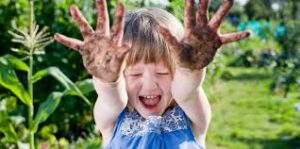 Lettuce – It grows quickly, giving your child very fast results.
Growing lettuce is also a great way to build their interest in salads and its easy to grow nature will help build their confidence in their gardening skills.
Radishes – It's a reliable crop and will also give your child quick results as it usually germinate in 3 to 10 days.
Radishes have a really short growing season though; almost 20 to 30 days.
Cherry Tomatoes – Your child can have all the fun with growing these. Their bright red appearance is always a winner with little ones.
Pumpkin – If you have enough space, pumpkins are a must have when gardening with your children and they come in handy at the end of October when the witching season hits.
Seeds are most likely to sprout within a week and vine leaves will start to form quickly after that.
For quick results, plant a variety of quick growing vegetables and make sure they are planted where they gets plenty of sun. Use seedlings rather than planting from the seed directly for even faster results though your kids will have a much greater sense of achievement when they successfully grow from seed.
Gardening Ideas for Small Gardens
A small space is no reason to keep your child away from all the gardening fun and its essence. Consider the following ideas for gardening on a small and manageable scale: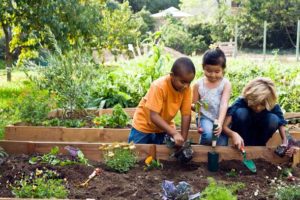 Square Foot Gardening – The idea involves planting a variety of plants in a small space using raised beds.
Simply construct a raised bed and fill it with soil, plant seeds and water.
Enjoy as your organic vegetables grow steadily.
Container gardening – This is just another version of a raised garden. The idea revolves around growing vegetables in small containers or vine crates.
Being portable, they're highly convenient and you can move them around when needed.
Windowsill boxes – If the above two ideas can't fit in your space, this will.
Consider growing lettuce in your windows by placing an attachable bucket or container.
Imagine how convenient it will be for your kids when they harvest these leafy green right from your window.

Gardening Tips and Ideas for Little Ones
Consider a Theme – Set a theme for your kid's gardening site.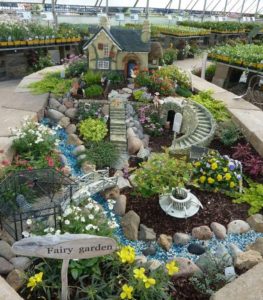 For instance, a salsa or pizza themed site means the veggies growing there can be used to prepare tempting meals.
A fairy garden is popular with little girls and little boys alike and you can use a variety of flowers and vegetables, especially mushrooms, to populate the garden area. Simply sprinkle fairy-like furniture taken from a doll's house or similar and perhaps place water features such as small fountains and garden similar water features from Amazon in key areas of the garden beside small doll or fairy houses from Amazon.
Get a Head Start – Empty milk cartons, decorated and colourful clay pots or creative raised planter boxes can grab your kid's attention and spark their imagination right from the beginning.
You can make a spaceport garden, a game of thrones garden or any type of garden you can imagine by simply placing small models in key areas and matching them with appropriate flowers and vegetables. Perhaps plant fragrant small blooms that attract butterflies.
Visit https://www.kidsgardening.org/ for ideas – A visit to such places. online and offline if you have access, will help kids to learn how veggies grow and how those beautiful butterflies and birds get attracted to their garden while helping you to gain a better understanding of how to create a child-friendly gardening environment.
Start from just a Seed – For kids, watching a seed sprout is something magical.
Simply place a transparent a pot near the window to let your kid observe the growth.
Have Fun
Regardless of how you decide to proceed with your garden be sure to make the entire process fun – don't take it all too seriously.
You will find that the reward of growing a garden with your child goes way beyond enjoying a peaceful, fragrant setting or having your own tasty organic veggies; you will build a stronger relationship with your children, help them to gain some great skills and build strong positive memories for both adults and kids alike that will last a lifetime.
Comments
comments