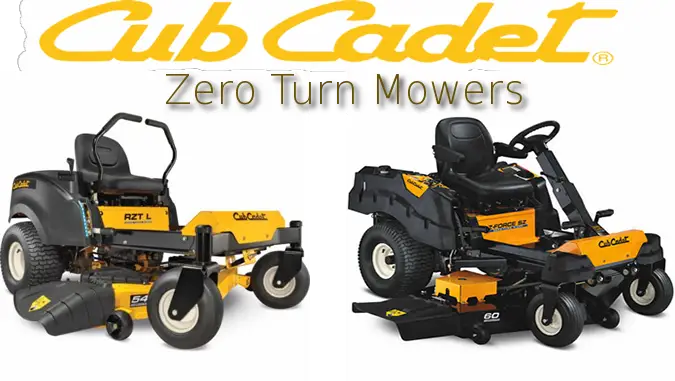 1960 International Harvester created the Cub Cadet brand. The IH Cub Cadet was an entirely new line of heavy-duty small tractors using components from the previous Cub series tractors.
Way back in 1981, International Harvester gave up their Cub Cadet division selling it to the MTD corporation.
These days as well as zero turn mowers Cub Cadet make some great walk behind mowers and lawn tractors.
Cub Cadet Zero Turn Mowers Reviewed
The Cub Cadet RZT Zero Turn Mower Range:

The Cub Cadet Z Force Zero Turn Mower Range


You can easily jump to the review of the mower that most interests you by clicking on the link in the table of contents below.


Cub Cadet Zero Turn Range

RZT Range

Cub Cadet is a proven innovator of zero-turn technology, and, arguably, boasts the strongest line of zero-turn mowers in the industry.

Cub Cadet's leading 360-degree turning technology allows you to cut around obstacles with precise control, making your every turn more efficient.

What's more Cub Cadet offer the industry standard 2-lever control zero turn models ("L" model) while also offering the same machine with a steering ("S" models)

There are also different sized models, with the RZT models giving you full control of the four-wheel steering to maximize stability and reduce your mowing time.

Cub Cadet zero turn mowers come with different size cutting decks; we have included reviews of the 50″, 46″, and 42″.

We will also show the differences in the machine that use the two different types of drive control used: lap bar technology versus syncro-steer technology.

Lap Bar Technology vs Syncro-Steer Technology

In simple terms there are two main differences between the steering mechanisms used in the Cub Cadet RZT range.

Lap Bar Technology is used for Precise Performance
Syncro-Steer Technology is used for Strength and Versatility

The RZT "L" Models

The RZT L models feature a lap bar controlled dual-hydro transmission that lets you mow forward at speeds of up to 7MPH, or mow-in-reverse at speeds of up to 4 MPH.

With only two lap bar positions to choose from (forward and back) and an integrated parking brake, you can take comfort in the simplistic operation with few controls.

Here's how it works:

To drive forward, you simply move both drive control levers forward, slowly and evenly, and the mower will begin to move.
You can accelerate up to 7MPH forward.
To slow down, move the control levers rearward (back towards yourself), or to the neutral position to completely stop.
Moving both levers rearwards – beyond the neutral point – causes the mower to drive in reverse.
You can accelerate up to 4MPH.
To turn to the left, move the left drive control – alone – rearward. To turn to the right, move the right control rearward. The greater the distance between the two levers, the sharper the turn.
To execute a zero-turn, simultaneously move one control lever forward and the other rearward.

The RZT "S" Models

The RZT S models offer four-wheel steering (a steering wheel) for optimal control, stability, and versatility.

The award winning combination of the four-wheel steering and steering-wheel control ensures strength of performance that you can enjoy for years to come.

It also makes the riding mower feel more like driving a standard motor vehicle such as a car or truck.

Cub Cadet's Syncro-Steer Technology is an innovative zero-turn mechanism that is merged with a conventional steering wheel to deliver superior maneuverability with full control of the front wheels.

Steering and drive are perfectly synchronized, giving you precise speed and rotating direction of each rear wheel at every position of the front wheels.

With Synchro Steer Technology, the steering wheel controls both front wheels and back wheels independently for superior stability on steep hills and precise control.

This technology is also available in the Z-Force SZ48 and Tank SZ60 models.

It is truly an innovation in the industry.

1. RZT L 50″ Lap Bar vs. RZT S 50″ Steering Wheel

Both the RZT L 50″ and the RZT S 50″ offer superior engine performnce.

Both models come with a powerful 23 HP Kohler 7000 Series twin-cylinder engine and huge 50″ cutting deck that lets you mow a 2-4 acre yard in minimal time.

Cub Cadet Signature Cut

Both offer 3 smooth arc blades, cut overlap, a deep dome deck, and a rust-resistant cutting deck that repels corrosion, you are assured of an even and clean-cut look every time you mow.

You can also adjust the cutting height to any one of 8 positions between 1 ½ inches and 4 inches.

Superior control

The RZT L 50 features a lap bar controlled dual-hydro transmission, with only two lap bar positions to choose from so you can take comfort in the simplistic operation with easy controls.

The RZT S 50 features a dedicated dual hydrostatic rear-wheel transmission that gives you effortless zero-turn control, synchronized with the steering via the steering wheel for minimal turf damage.

The gas and brake pedals match those on a standard car or truck for simplicity. Simply press the gas pedal to drive forward, or the reverse pedal to drive backwards.

Comfort

The RZT L 50″ provides the widest and longest foot platform, offering the most legroom and comfort in the residential RZT range.

It also comes with a 2-position lap bar design, electronic fingertip PTO blade engagement, and a tank with 2.8 gallon fuel capacity for convenience.

Durability

Both come with a heavy-duty fabricated axle, a reinforced frame and chassis, and a sturdy steel frame to withstand heavy and frequent mowing in the toughest terrain.

And with the large 13″ front wheels and 18″ rear wheels, as well as the ball bearing hubs, you can cut even the roughest landscapes without feeling it.

Comparison Chart for RZT 50″ ZT Mowers

Comparison Chart for RZT 50

| | RZT L 50" with Lap Bar Control | RZT S 50" with Steering Wheel Control |
| --- | --- | --- |
| Dimensions LxHxW | 80" x 36" x 57" | 84.5" x 35.5" x 60.75" |
| Cutting Width | 50 inches | 50 inches |
| Front/Rear wheel size | 13" / 18" | 13" / 18" |
| Cutting options | 3-in-1 Mowing, mulching, side-discharge | 3-in-1 Mowing, mulching, side-discharge |
| Deck material | 12-Gauge Steel | 12-Gauge Steel |
| Drive type | Rear-wheel Drive | Rear-wheel Drive |
| Engine | 23 HP Kohler 725 cc V-Twin | 23 HP Kohler 725 cc V-Twin |
| Cutting height | 1.5 – 4 inches | 1.5 – 4 inches |
| Number of deck wheels | 4 | 4 |
| Forward/Reverse speed | 7 / 4 MPH | 7 / 4 MPH |
| Number of blades | 3 | 3 |
| Control / Steering | 2-way adjustable lap bars | 2-way adjustable steering wheel |
| Mower size | Large | Large |
| Size of yard | 2 – 4 acres | 2 – 4 acres |
| Terrain | Flat with obstacles | Flat with obstacles, hilly |
| Transmission | Dual Hydrostatic | Dual Hydrostatic |
| Weight | 745 lbs | 775 lbs |
| Warranty | 3-year limited | 3-year limited |
| Price | Check Home Depot | Check eBay |

RZT L 46″ vs. RZT S 46″

RZT L 46″ Honda V-Twin vs. RZT L 46″ Kohler V-Twin vs. RZT S 46″ Kohler V-Twin.

The Cub Cadet zero-return riding mower range with 46-inch twin-blades comprises 3 popular options for residential consumers looking for comfort when mowing ½ to 2 acre yards.

Performance

The RZT L 46″ Honda V-Twin comes with a powerful and dependable 688cc Honda GXV630 series twin-cylinder OHV engine that guarantees reliable starting, quiet operation, and fuel efficiency.

The RZT L 46″ Kohler V-Twin comes with a 23 HP Kohler 7000 Series twin-cylinder OHV engine that offers fairly quiet operation and long-life.

The RZT L range lawnmowers use a lap-bar controlled dual-hydro gear EZT 2200 transmission with dual hydrostatic rear-wheel transmission for quick, effortless zero-turn control.

The RZT S 46″ Kohler V-Twin comes with a larger, 725cc, 24 HP 7000 Series twin-cylinder OHV engine, a dedicated dual-hydrostatic rear-wheel transmission, and a steering wheel – instead of lap bars – that most consumers are familiar with for ease of use.

Bluetooth Technology

The entire 46″ RTZ range features Bluetooth technology via its Kind Cub Connect mobile app that makes it easier to keep up with maintenance schedules.

The app tracks maintenance needs and service records, and provides users with how-to-guides, replacement part guides, and more.

Comfort

The RZT L range has the largest and widest foot platform in the residential zero-turn category for maximum comfort when mowing or mulching.

However, bear in mind that the mulching kit is sold separately on these models.

Both the lap bar and steering wheel designs offer 2 positions for extra comfort and simple operation.

Durability

The RZT 46″ range of lawnmowers feature a rust-resistant dual-blade cutting deck with Triple Guard E-coat protection for exceptional cut-and-bagging performance.

And for your peace of mind, the 11-Gauge fully fabricated deck with anti-scalping wheels is supported by a 7-year deck shell warranty.

Comparison Chart for RZT 46″ ZT Mowers

Comparison Chart for RZT 46

| | RZT L 46" Honda V-Twin | RZT L 46" Kohler V-Twin | RZT S 46" Kohler V-Twin RZT |
| --- | --- | --- | --- |
| Dimensions LxHxW | 80" x 36" x 54" | 80" x 36" x 54" | 84.5" x 35.5" x 52" |
| Cutting Width | 46 inches | 46 inches | 46 inches |
| Front/Rear wheel size | 13" / 18" | 13" / 18" | 13" / 18" |
| Cutting options | 3-in-1 Mowing, mulching, side-discharge | 3-in-1 Mowing, mulching, side-discharge | 3-in-1 Mowing, mulching, side-discharge |
| Deck material | 11-Gauge Steel | 11-Gauge Steel | 11-Gauge Steel |
| Drive type | Rear-wheel Drive | Rear-wheel Drive | Rear-wheel Drive |
| Engine | 688cc Honda V-Twin,725cc | 23HP Kohler V-Twin,725cc | 24HP Kohler V-Twin |
| Cutting height | 1.5 – 4 inches | 1.5 – 4 inches | 1.5 – 4 inches |
| Number of deck wheels | 4 | 4 | 4 |
| Forward/Reverse speed | 7 / 4 MPH | 7 / 4 MPH | 7 / 4 MPH |
| Number of blades | 3 | 3 | 3 |
| Control / Steering | 2-way adjustable lap bars | 2-way adjustable lap bars | 2-way adjustable steering wheel |
| Mower size | Medium | Medium | Medium |
| Size of yard | ½ – 2 acres | ½ – 2 acres | ½ – 2 acres |
| Terrain | Flat with obstacles | Flat with obstacles | Flat with obstacles, hilly |
| Transmission | Dual Hydrostatic | Dual Hydrostatic | Dual Hydrostatic |
| Weight | 721 lbs | 721 lbs | 721 lbs |
| Warranty | 3-year limited | 3-year limited | 3-year limited |
| Price | Check Home Depot | Check Home Depot | Check Home eBay |

A Word About the RZT 42″ L & S Models

The Cub Cadet zero-return riding mower range with 42-inch twin-blades comprises 3 popular options for residential consumers looking for comfort when mowing ½ to 2 acre yards.

Most of the features are similar to their larger counterparts, including tire size.

The 42″ blade delivers the same cut standard you would expect from any of the machines in the excellent Cub Cadet range of mowers.

The RZT S 42″ lawnmower comes with a 22 HP Kohler V-Twin automatic OHV engine.

If you prefer the lap bar design (the RZT 42L), you can choose between 2 different models one with the 23 HP Kohler 7000 Series V-Twin OHV engine and the 688cc commercial grade Honda GXV630 V-Twin OHV engine.

Both engines deliver reliable performance, easy starting, smooth and quiet operation, and fuel efficiency.

Summary of RZT Range

The RZT series is built strong with high-performance, commercial-grade, engines and heavy-duty components.

It deleivers dependability and consistently professional results, whether mowing or mulching.

And for easy maintenance, the range comes with the Smartjet deck wash system that delivers high pressure water, via a normal household water hose, to prevent grass and debris accumulation under the deck.

Z-Force range

The Cub Cadet Z-Force range comes with powerful 24 and 25 HP Kohler Pro V-Twin OHV engines for unmatched durability and efficiency, so every mow is as strong as the last.

The most common options feature a heavy-duty, fabricated 48-inch and 54-inch deck with either Lap Bar control or steering wheel control with Synchro Steer Technology.

Z-Force L 48" vs. Z-Force S 48"

Z-Force S 48″ 24 HP Steering Wheel Control vs. Z-Force L 48″ 24 HP with Lap Bar Control.

The smaller, 48-inch deck offers great versatility for mowing around trees, fences, and other obstacles.

Its central position makes it easier for you to see and increase mowing accuracy under low obstacles and in corners.

Powerful engine

Both Z-Force lawn mowers come with a professional-grade 24 HP KOHLER 7000 Series Pro V-twin OHV engine.

The KOHLER 7000 Series boasts double the life of standard engines, as well as quieter operation, lower fuel consumption, and higher performance.

Big claims indeed.

However, these claims come from a big name in the industry and in the case of the 7000 series pro v-twin OHV engines this claim does appear to be true.

Zero Turn Capability

The low center of gravity in the range, combined with a wide wheelbase allows the Cub Cadet Z-Force zero-turn mowers to glide over uneven terrain and still deliver clean cuts in straight lines across bumps and slopes.

The zero-turb capability means you can easily cut around lawn obstacles such as trees and flower beds etc.


Camo Finish

For an extra $100, you can choose the Cub Cadet Z-Force L 48″ with rugged CAMO finish.

If you are looking to mow areas up to 4 acres this high performing rider can easily tackle flat to slightly hilly terrain, even with obstacles.

The Z-Force L with CAMO finish cutting deck offers 15 positions height adjustment between 1 and 4 inches.

This is compared to the Z-Force L and Z-Force S 48″ models that offer only 8 cutting positions within the same range.

However, the CAMO pattern makes the mower 100 pounds heavier than both the Z-Force S 48″ and Z-Force L 48″ with no CAMO pattern.


3-in-1 cutting options

Many users prefer to mulch their turf.

The Cub Cadet Z Force range features advanced mulching technology to re-circulate airflow around the cutting deck and deliver highly effective mulching.

Alternatively, you can use the standard bagging or side discharge options available across the entire range.


Comfort

Both the lap bar and steering wheel controls come with adjustable designs to maximize comfort and ease of operation.

The Z-Force L range comes with a 3-way adjustable ergonomic lap bar design and includes a parking brake for simple operation, while the Z-Force S range comes with a 2-position design for comfort.

Other convenient features include cup holder, utility bin, single-lever height adjustment, rust-resistant deck, electric PTO, and smartjet deck clean-out system.

Z-Force L 54″ vs. Z-Force S 54″

The Z-Force L 54″ 25 HP with Lap Bar Control vs. Z-Force S 54″ 25 HP with Steering Wheel Control Advanced zero-turning control

The Cub Cadet Z-Force L 54″ zero-turn mower with a fabricated deck and 25 HP Kohler ProV-Twin OHV engine comes with an advanced lap bar design.

The heavy-duty dual hydrostatic ZT-2800 rear-wheel transmission delivers effortless zero-turn performance – even when mowing at changing speeds – owing to the integrated parking brake design. This helps to improve stability and protect your turf from damage.

The Z-Force S 54″ mower features the simplicity of gas and brake pedals that match the control and movement of cars.

Press the gas pedal to move forward, or the reverse pedal to go in reverse.

The steering wheel controls the front wheels and back wheels independently thanks to Synchro Steer Technology for advanced maneuverability around obstacles and stability on moderate hills.

Choosing between the two designs is really a matter of personal preference.


The Cut & Finish

The 54″ fabricated triple-blade cutting deck is rust resistant.

It is designed with triple guard e-coat protection, which when combined with the smooth arc blades, cut overlap, and deep dome deck delivers superior bagging performance and beautiful lawns.

The deck shell comes with a 7-year warranty, in addition to the 3-year/180 hour limited warranty for your peace of mind.

Comfort

The Z-Force L 54″ is designed with a larger operator's station, featuring an 18-inch high-back seat, armrests, 3-way adjustable ergonomic lap bars, and an integrated parking brake for maximum comfort and ease of operation.


Reduced mowing time

The huge 54-inch deck cuts a much wider area to get the job time in fewer trips and significantly less time.

The fabricated deck can easily mow large yards with rugged terrain of 4 acres and above.

Summary of the Z-Force Mowers

The Cub Cadet Z Force 48 and 54-inch zero-turn mowers maximize function, comfort, and ease of operation.

With a wide triple-blade, high-back seat, soft grip steering wheel and anti-scalping deck wheels, mulching your 4+ acre yard will feel like a pleasant pass-time activity, mow after mow.

Comparison of the Z-Force Mower Range

Comparison Chart for Z-Force Zero Turn Mowers

| | Z-Force L 54" | Z-Force S 54" | Z Force L 48" | Z-Force L 48" with CAMO Finish | Z-Force S 48" |
| --- | --- | --- | --- | --- | --- |
| Engine | 25 HP KOHLER Pro V-Twin | 25 HP KOHLER Pro V-Twin | 24 HP KOHLER Pro V-Twin | 24 HP KOHLER Pro V-Twin | 24 HP KOHLER Pro V-Twin |
| Control | Lap Bar | Steering Wheel | Lap Bar | Lap Bar | Steering Wheel |
| Dimensions LxHxW | 83.5" x 35.5" x 62" | 83.5" x 35.5" x 62" | 106.35" x 35.5" x 62" | 83.5" x 35.5" x 62" | 83.5" x 35.5" x 62" |
| Cutting Width | 54 inches | 54 inches | 48 inches | 48 inches | 48 inches |
| Front/Rear wheel size | 13"/20" | 13"/20" | 13"/20" | 13"/20" | 13"/20" |
| Cutting options | 3-in-1 mow, mulch, side discharge | 3-in-1 mow, mulch, side discharge | 3-in-1 mow, mulch, side discharge | 3-in-1 mow, mulch, side discharge | 3-in-1 mow, mulch, side discharge |
| Deck material | 11 Gauge Steel | 11 Gauge Steel | 11 Gauge Steel | 11 Gauge Steel | 11 Gauge Steel |
| Deck Type | Fabricated | Fabricated | Fabricated | Fabricated | Fabricated |
| Drive Type | Rear-wheel Drive | Rear-wheel Drive | Rear-wheel Drive | Rear-wheel Drive | Rear-wheel Drive |
| Engine size | 725cc | 725cc | 725cc | 725cc | 725cc |
| Fuel tank capacity | 2.8 gallons | 2.8 gallons | 2.8 gallons | 2.8 gallons | 2.8 gallons |
| Cutting range | 1.5 – 4 inches | 1.5 – 4 inches | 1.5 – 4 inches | 1.5 – 4 inches | 1.5 – 4 inches |
| Forward/Reverse speed | 7/4 MPH | 7/4 MPH | 7/4 MPH | 7/4 MPH | 7/4 MPH |
| Number of blades | 3 | 3 | 3 | 3 | 3 |
| Deck wheels | 2 | 2 | 2 | 2 | 2 |
| Cutting deck positions | 8 | 8 | 8 | 15 | 8 |
| Steering wheel positions | 3 lap bar positions | 2 steering wheel positions | 3 lap bar positions | 3 lap bar positions | 2 steering wheel positions |
| Size | Large | Large | Medium | Medium | Medium |
| Product weight | 900 lbs | 850 lbs | 800 lbs | 900 lbs | 800 lbs |
| Size of yard | 4+ acres | 4+ acres | 2-4 acres | 2-4 acres | 2-4 acres |
| Terrain type | Flat with obstacles | Flat with obstacles, hilly | Flat with obstacles | Flat with obstacles | Flat with obstacles, hilly |
| PTO engagement | Electronic fingertip blade | Electronic fingertip blade | Electronic fingertip blade | Electric | Electronic fingertip blade |
| Warranty | 3-year limited | 3-year limited | 3-year limited | 3-year limited | 3-year limited |
| Price Home Depot | Z-Force L 54" | Z-Force S 54" | Z-Force L 48" | Z-Force L 48" with CAMO Finish | Z-Force S 48" |

Comments

comments